Nowadays we spend a lot of time on the Internet and we are so used to rely on it for many daily task that we often don't realize how frequently we transmit sensitive information (private corporate URLS, home banking credentials, credit card number for e-commerce purchases, etc.) around the net. If those information were only sent to the target site (the bank web site, the e-commerce site, etc.), it wouldn't be a problem since the communication is usually encrypted, but we often forget that before sending those information we have to write them on our browser interface and due to some, otherwise useful but that in this case nasty, features (like using on-line dictionaries for spell-checking), the browser may inadvertently share them with third party services. This guide will show you how to protect your privacy while using Google Chrome.

In order to protect your privacy while using Google Chrome you first need to open the Google Chrome setting page. Then go to the "Privacy" section.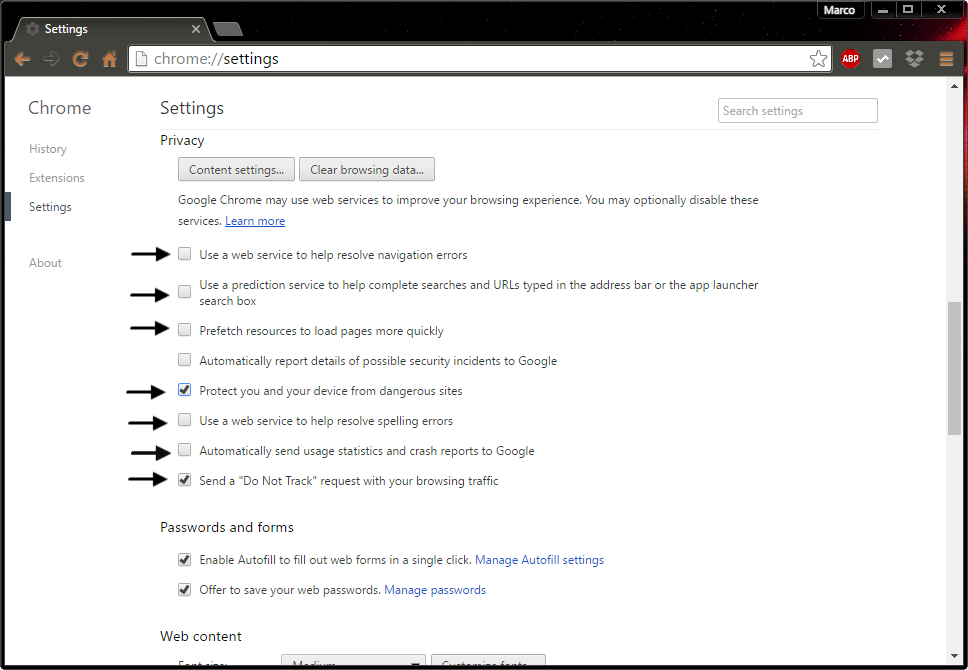 The first option to disable is "Use a web service to help resolve navigation errors"; with this feature on if you mistyped the URL, or it doesn't exist at all, Google will try to search for similar sites, but by doing so the info about the site you intended to visit will logged and saved.
The second option to disable is "Use a prediction service to help complete searches and URLs typed in the address bar or the app launcher search box"; this option is similar to the above with a major difference for your privacy: in this case the "correction" is preemptive; this means that over a long period of time Google monitors (log and save) what sites you access and what search you make so it can guess what site you want to see next.
"Use a web service to help resolve spelling errors" seems like a very nice feature to have, but it is also the most dangerous since the Google Chrome may inadvertently send and store credit card numbers and login informations to its own server; I say "inadvertently" because I presume that Google have thought about that and it may have built an algorithm into Chrome that recognize, and therefore prevent sending, those informations, but like any algorithm it may not succeed every time and therefore some information may be sent.
In theory Google Chrome should be able to strip out any private information before "automatically send usage statistics and crash reports to Google", but like the "spelling errors" function above, you can't be sure it will succeed every time.
A couple of options you may want to activate to protect your privacy while using Google Chrome are
"Protect you and your device from dangerous sites": in this case it may be useful to send to Google the sites you are about to visit so Google Chrome can block you from visiting malicious web sites that may instal malware that may steals your private information;
"Send a "Do Not Track" request with your browsing traffic": not all websites honor this feature, but many do and they will not store any tracking cookies on your computer.
Once you selected the various options under "Privacy", go to the "Sign in" section and click "Advanced sync settings".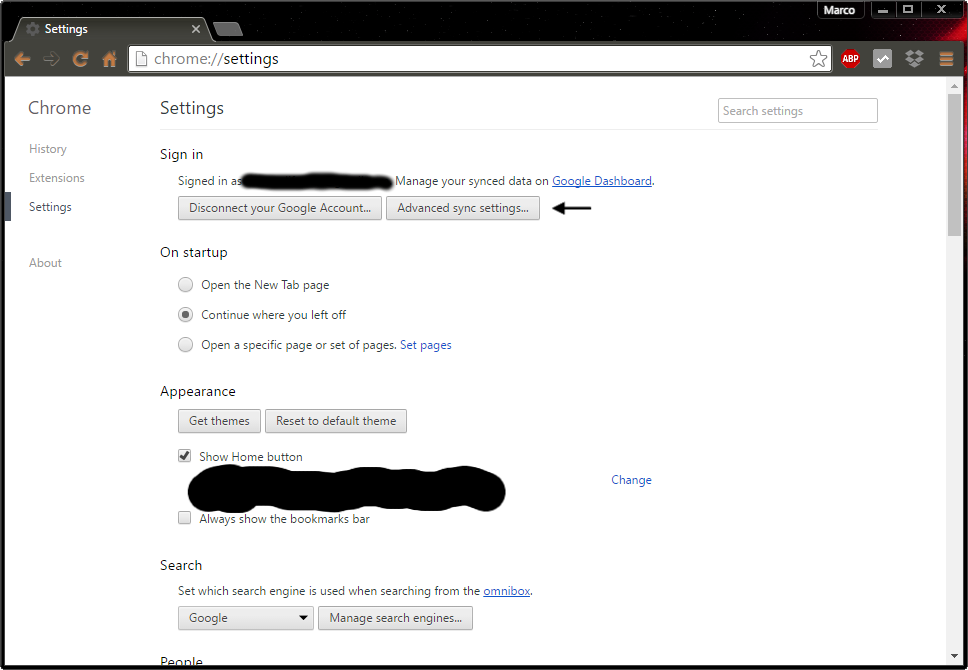 Select "Encrypt all synced data with your own sync phrase" and a password different from your Google Account password.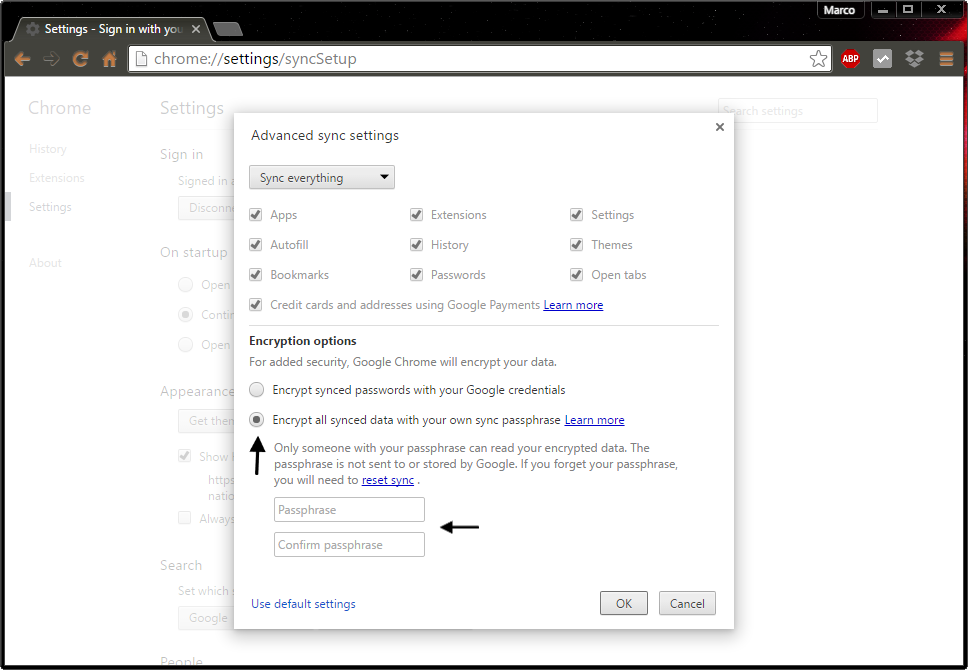 With this option active, even if someone guess your Google Account password, he can't see your browser content (bookmarks, history, extensions, etc.); beware that with this option active some Google features will not be available:
Google Now won't show suggestions based on sites you browse in Chrome;
You won't be able to view your saved passwords on https://passwords.google.com or use Smart Lock for Passwords on Android;
Your history won't sync across devices. Web sites or URLs that you type in the address bar in Chrome will still sync.
The last two option you may want to enable to protect your privacy while using Google Chrome is under "Content settings".
The first option is under "Cookies" and it is "Block third party cookies and site data"; with this option set any web site will be able to set only their own cookies, but not cookies for third parties sites (and most ads shown on any web site fall under the later definition).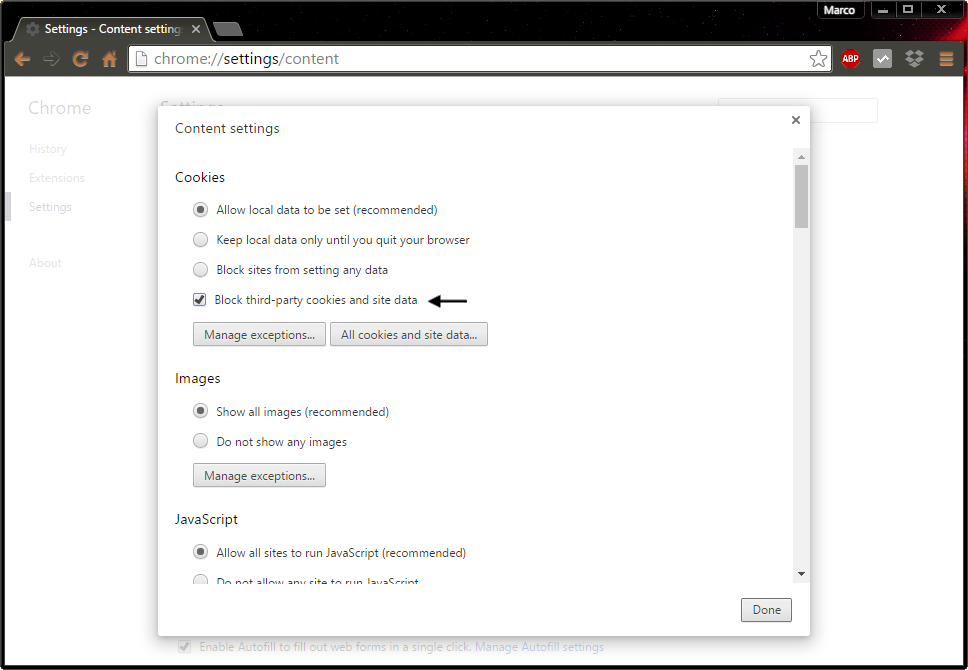 Under "Location" enable the option "Do not allow any site to track your physical location" to prevent various sites to trace your position; the obvious drawback of this feature is that you may lose the geo-localization of content of various sites (unless the web site gives you the option to manually access the local content).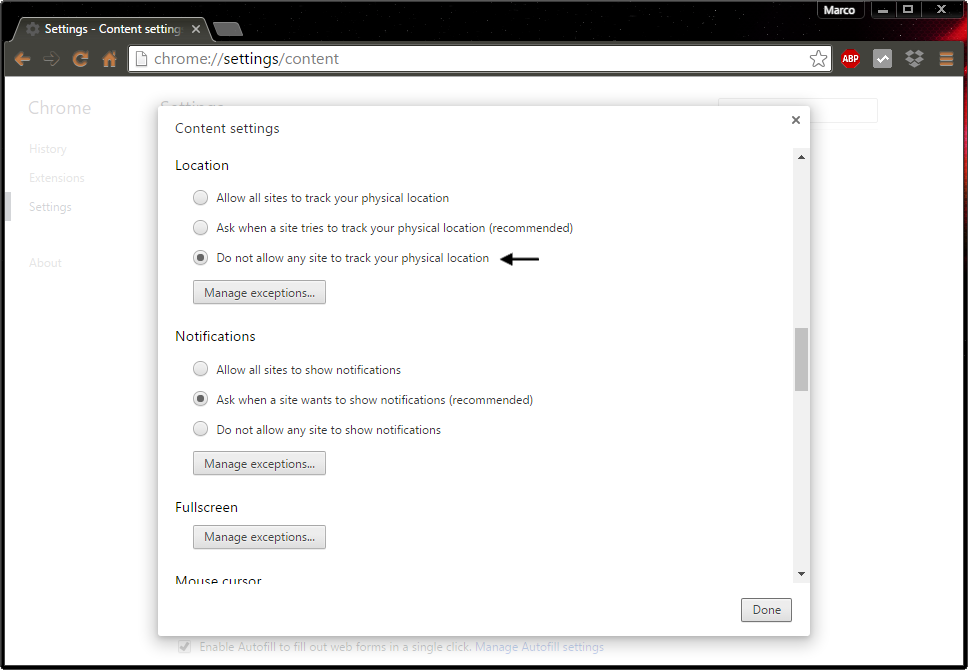 By setting the above options in just a couple of minutes you have protected your privacy and made Google Chrome more secure.